Tyres
Tyres are one of the most important parts of a vehicle with the tyre tread only making contact with a small area of the road so if your tyres are worn or damaged it affects the safety and handling of your car. Tyres need to meet legal requirements or you can face a hefty fine and points on your licence.
Tyre Checks
We suggest you frequently check the condition, pressure and tread depth of your tyres. Tread depth must be a minimum of 1.6mm throughout a continuous strip in the centre three quarters of the tread and around the entire tyre circumference. However, at MCP we suggest that you replace your tyres when the tread reaches 3mm for safety, especially when driving at speed and in the wet.
We can supply and fit any make of tyre in any size and typically fit top brand tyres such as Bridgestone tyres, Continental tyres, Dunlop tyres, Goodyear tyres, Michelin tyres and Pirelli tyres, as well as Radar tyres which is our premium budget range.
Tyres For Any Budget
We've also got budget brand tyres including Radar tyres. In fact we have tyres to suit both your car, your style of driving and your budget and if we have your choice in stock we can arrange to fit them while you wait.
If your choice is for original equipment tyres for your make and model of car, then we can also source these for you. Just contact us with your requirements.
When we fit your new tyres we also offer tracking to help reduce tyre wear and improve road handling.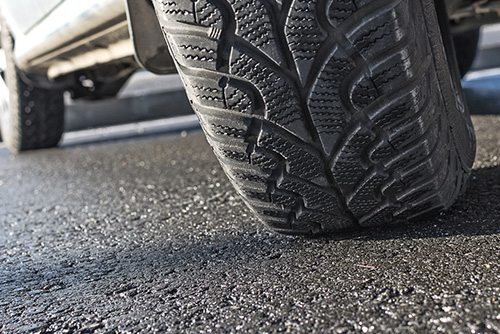 Wheel Alignment and Tracking
Wheel alignment or tracking, is the process of ensuring your vehicle's wheels are set to the optimum position, as per the car manufacturer's specifications. Incorrect alignment can result in rapid irregular tyre wear and can even affect the handling and safety of the vehicle.
Wheel alignment problems can be caused by hitting a kerb, driving into a pothole in the road or by excessive wear to steering or suspension components. It is important to get your wheel alignment checked annually to ensure you get the most out of your tyres.
Checking your wheel alignment on your car or van regularly can prolong the life of your tyres and increase fuel efficiency due to the reduced rolling resistance with the road – saving you pounds at the pump.
Keep an eye out for unusual wear on your tyres, such as premature wear on the inside or outside shoulder, which could be a sign of incorrect alignment.
Regular wheel alignment can reduce uneven tyre wear, improve vehicle handling and steering and save you money by lowering fuel consumption.
Wheel alignment involves checking the direction and angle of the wheels. The misalignment positions are described as toe in, toe out, positive camber or negative camber.
Toe "in" and "out"
"Toe" refers to whether the front of the tyres are closer or further apart than the rear of the tyres. Different types of vehicles need different toe settings to allow for the way that wheels pull either towards each other or apart. Incorrect toe alignment can result in in your car or van steering to one side.
Negative Camber and Positive Camber
"Camber" is the inward or outward tilt of a tyre. The camber is set by the vehicle manufacturer, and can be affected by potholes in the road and may need to be adjusted periodically.
Tyre Recycling
All used tyres from MCP customers are sent to be recycled with a recognised local recycling facility.
Frequently Asked Questions
Should I fit winter tyres?
IBR
2018-08-29T14:25:17+01:00
Winter tyres are specially designed to perform in wet, icy weather and very low temperatures, as well as snowy conditions. They contain a higher percentage of rubber than standard tyres to ensure they maintain grip in low temperatures. More motorists are opting to fit winter tyres, especially after the severe winters we have experienced in the UK over the last few years.
Winter tyres could be a valuable asset if you live in a remote location which is hit with severe winter weather or if you do a lot of driving.
Many customers using winter tyres purchase an extra set of wheels to have them fitted to. We are able to supply these and will store the wheels not in use at our premises for £30.00 per year.
Opening Hours
Monday – Friday: 09:00 – 18:00
Saturdays: 09:00 – 13:00
Sundays and Bank Holiday weekends: Closed